Jurassic World Evolution 2 is a game that offers players the chance to create their own Jurassic Park. Players have to manage all aspects of park life, including breeding dinosaurs and managing employees. There are also multiple endings depending on how well you play as well as unlockable content for those who enjoy grinding out an extra challenge or two.
Jurassic World Evolution 2 is an enjoyable park building game that has been released by Frontier Developments. The game was developed for the PC and it offers a single player experience.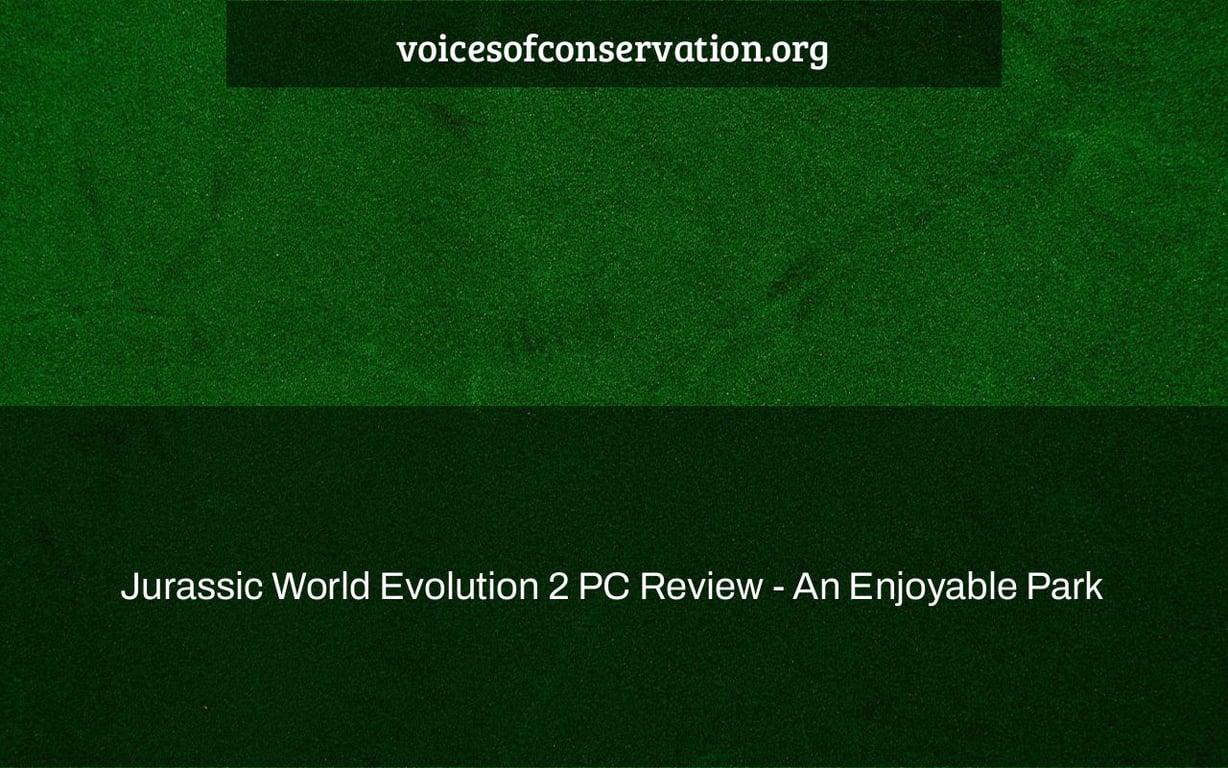 If the first Jurassic World Evolution seemed like an airy grasp at nostalgia's veil, the sequel grabs it firmly and pulls it toward the player.
Jurassic World Evolution 2 promises a full-on dinotastic feast of fantasy possibilities for Jurassic Park and World lovers in ways that the original didn't quite deliver. It suffers from a bit of an identity problem as a result of this. It's a Jurassic Park game that caters to chaos much too well when a bit more order would have been beneficial.
There are two narrative modes in the game. One for the original Jurassic Park film, which rewrites history with a fascinating "what if?" scenario of a Jurassic Park that didn't end before it began. The other is a prequel to the more contemporary Jurassic World series, and it begins up where Fallen Kingdom left off.
Both still focus on maintaining a profitable prehistoric theme park, but they manage to sprinkle in events and sequences that attempt to recreate the films' cinematic soul. Jeff Goldblum, reprising his role as Dr. Ian Malcom, is one of the cast members.
"The internal conflict between trying to manage a profitable park rich of historical treasures and playing to the strengths of the films by 'accidently letting a few carnivores escape during the busy season' is one that never completely gets resolved"
Even if you haven't played the original JW Evolution, the gameplay cycle is similar. You start with a little budget to build a small tourist attraction, and you finance its growth by pulling in more and more visitors.
It wouldn't be a Jurassic World game if that was all there was to it, and it wouldn't be right to have this license and not have to deal with a few runaway dinosaurs and interfering conspiracies in addition to fixing food pricing and stocking up on ammunition.
So, of course, there's some of that wonderful, beautiful pandemonium that Dr. Ian Malcom adores. But, as I previously said, there is such a thing as too much anarchy, and JW Evolution 2's park management is a double-edged sword in which it proves to be both its most entertaining feature and its most annoying flaw.
The internal conflict between trying to manage a profitable park rich of historical treasures and playing to the strengths of the films by "accidentally letting a few predators escape during the busy season" is never completely resolved. It definitely doesn't help that the park development tools and processes, considering how light and vague they may be, aren't exactly encouraging of law and order.
"Whatever else there is to like or dislike in JW Evolution 2, there's no denying Frontier nailed the stars of the show."
JW Evolution 2 is unquestionably better than the previous game, but it still employs the same trial-and-error method to park administration. It's really somewhat good in providing emergent moments of delight, but it pushes it too far into the realms of fussiness, much like the original. Some narrative mode scenarios have highly specific completion criteria, and the game's relative vagueness in describing the game to the user results in some egregiously unfair failures that aren't even compensated with dino carnage.
There's a unique concept of park strategy, with the game placing an unusual emphasis on the player doing mundane but required jobs manually. I don't know about you, but I'd rather make clever judgments about where to locate a merch booth for maximum profit than physically fuel automobiles. Things like that don't add anything to the game other than unnecessary busywork for the player.
These are the moments that threaten to sour Frontier's Jurassic love-in in JW Evolution 2. What's concerning about this is that the sim management stuff gets in the way of the game being really pleasant, which is supposed to be the entire objective.
The greatest thing you can do is accept the anarchy and reject any long-term attempts at operating a good park, then move on to sandbox mode and abandon the narrative modes. After all, if it weren't for the allure of a park full of people-eating dinosaurs going rampant, we wouldn't be here.
JW Evolution 2 allows the player to descend to ground level to marvel at the fear and horror (or just go dino-watching, if that's your preference). It's here that you can appreciate the dinosaurs' intricate details. The way they walk, stare, and, in some instances, gape at how massive and terrifying they are. It provides a considerably more engaging experience with a broader range of organisms to grow from land, sea, and air. Whatever else there is to like or dislike with JW Evolution 2, Frontier definitely got the stars of the show right.
Accessibility
Support for controllers, as well as normal choices for subtitles, audio, graphics, and other features. The game lacks a comprehensive tutorial and does not provide many useful advice.
Performance
Sim games often suffer from poor performance due to the fact that they must manage so many complicated, interweaving systems at once, causing frame rates to decrease, textures to pop in and out on the fly, and games to crash frequently.
JW Evolution 2 works well, either because it is broken up into reasonable portions or because the mechanisms are quite simple. When transitioning between park administration and actually partaking in activities inside it, there's a little shock, but otherwise, it's a pleasingly issue-free product.
VERDICT OF JURASSIC WORLD EVOLUTION 2
Jurassic World Evolution 2 is a suitable sequel to the original as a celebration of all things Jurassic. It fails to identify a significant focal point as a park management game. That's a bit disappointing, given Frontier's competence in this particular field elsewhere. A light, chaotic simulation that pays homage to the Jurassic Park/World series' ancient chaos.
KEY MOMENT IN THE GAME
Allowing a hungry carnivorous dinosaur to escape and embark on a park-wide human banquet by accident.
Good vs. Evil
In Story Mode, there are nods to the movie.
Obviously, the dinosaurs.
Some park management enhancements
Park management is perplexing and superficial.
Scenario requirements that are a pain to work with
Explanation of what mechanisms are present is very unclear.
Menial job that is unnecessary
Watch This Video-
"The game is a lot of fun to play, but the lack of depth in its systems means that it's not going to be for everyone. Reference: jurassic world evolution 2 review pc gamer.
Related Tags
jurassic world evolution 2 pc requirements
jurassic world evolution review
jurassic world evolution 2 review reddit
jurassic world evolution 2 review ign
jurassic world evolution 2 metacritic